Julie Templeton Masterclass – Sponsored by Day, Son & Hewitt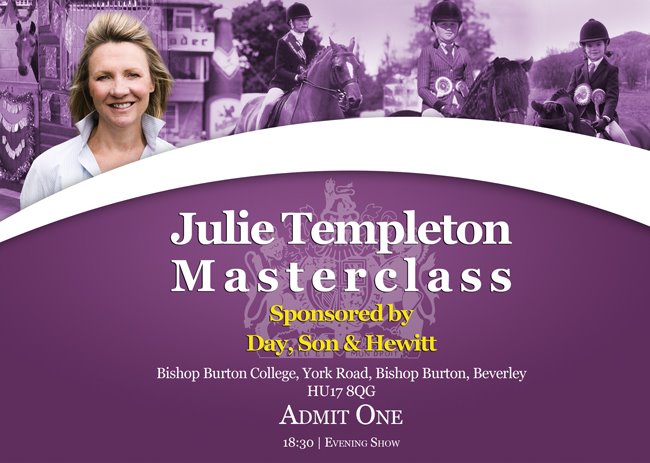 Everyone here at Day, Son & Hewitt is delighted to be able to offer you the chance to attend a masterclass with Julie Templeton. Read on for more information.

Day, Son & Hewitt is offering you the chance to get ahead of the competition for 2012 with our Julie Templeton Masterclass. This is a great chance to develop your skills and receive expert advice and coaching from Julie Templeton.
About the Masterclass
The Masterclass is being held on Monday, the 2nd and Tuesday, the 3rd of April. You can attend either day for £35 or both days for £50! (Click here to book). The Masterclass is being held at the stunning, £3 million equine arena at Bishop Burton College. The Centre is a BHS Approved Riding School and Examination Centre with some amazing facilities.
About the Day
The day will consist of 3 sections split in to morning, afternoon and evening sessions:
In the morning, all attendees will be split in to small groups, with no more than 5 in a group, based on ability and previous experience. During the morning you'll get valuable coaching from Julie Templeton, with expert advice on how to further develop your skills.
In the afternoon, you'll get to put in to practice what you learnt in the morning session in an afternoon show class. These classes will be slightly bigger groups of around 20, giving you a chance to practice in a competition-like environment. Julie will be available to offer pointers to riders.
Finally, in the evening, you will be able to watch how the experts do it with a special performance from the Julie Templeton Show Team. All Masterclass attendees are welcome or you can book your complementary ticket by e-mailing us here at Day, Son & Hewitt: info@daysonhewitt
We will be available all day to offer you expert nutritional advice on how to get the best out of your pony.
How to Book
Booking is simple! Either:
Call us on 0845 500 77 77
Email us for a booking form at info@daysonhewitt.com
Or you can even book online here
You can attend on either Monday, Tuesday or both days! Prices are £35 for a single day or £50 for both days.
Stabling, accommodation and electric hook ups are available at an additional price – see the online booking form or contact us for more information.
We look forward to seeing you there! Feel free to drop us a comment, email or call if you have any questions.
Be sure to follow us on Facebook & Twitter for the latest updates.