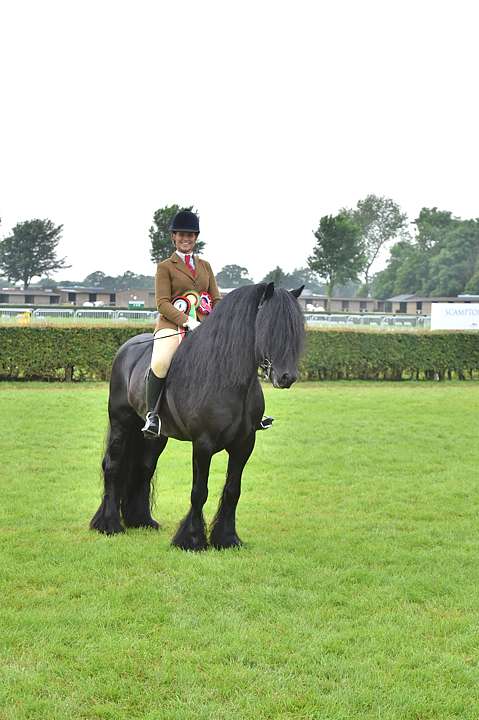 What a fantastic year Sarah Field, our sponsored rider has had in 2016. Her recent achievements are listed below and we wish her the best of luck at Olympia Horse Show on Monday 19th December. This will be Sarah's final show before the pitter patter of tiny feet arrive in 2017, with Sarah welcoming her first child into the world.
Smart Move lll, 16.1 Plaited Skewbald Gelding
1st & Ch RIHS qualifier at BSPA Northern Regional Show, 4th HOYS qualifier at North of England & placed every time out this year
Charly Syndrome, 7 year old 142cm Piebald Traditional Gelding
1st & Res Ch at BPSP 2A Cheshire Premiere Show, 5th HOYS qualifier North of a England & placed in every outing. Forgot to mention BSPS 2a, where Charly was 1st & Res Ch was also an RIHS qualifier
Moelview Crusader, 7 year old Sec B Gelding
1st NPS Ringside Stud qualifier at NCPA Staffs show
Ellister Islay Mariner, 6 year old highland stallion
1st Olympia direct qualifier at BSPS Heritage Champs, 3rd HOYS qualifier at Three Counties show, 4th HOYS qualifier at Royal Highland, 4th HOYS qualifier Stoneleigh Horse Show, 5th HOYS qualifier NPS Summer Champs
Murvey George, 3 year old Connemara Colt
1st & Ch NPS Leyhill Stud mixed M&M in hand qualifier at Derbyshire Festival, 1st & Ch mixed M&M in hand at North of England, graded class 1 at the northern Connemara headings at Osbaldeston, 1 Of only 2 to achieve this out of 11 colts present
Setmabanning Danny Boy, 2 year old Fell Colt
Licensed this year & tested FIS clear (unshown to date) "Kilimazing Realt'or" 12 year old Connemara stallion, 2nd HOYS M&M WHP qualifier at Derbyshire Festival, 1st & Ch HOYS M&M whp qualifier at NPS Summer Champs show
Tarbarl Matthew, 9 year old Dales Stallion
1st HOYS qualifier at Lincolnshire County, 2nd HOYs qualifier at NPS Spring Festival, 2nd HOYs qualifier at Cheshire County, 1st Dales Stallion in hand at Great Yorkshire, 2nd HOYs (highest placed dales for 2nd year running) 3rd HOYS Tagg La Liga HOYS awards & highest placed dales in the final placings.
Let's see what 2017 has instore…
---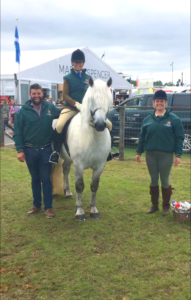 Day, Son and Hewitt are proud to announce our Sponsorship of North West Show Producer, Sarah Field.
Sarah is an established rider producing her own horses and ponies in Lancashire. She regularly reaches HOYS and Royal International. Sarah's family have their own livery yard and currently have 15 of their own horses and ponies; ridden, young stock, broodmares and stallions. In the spare time Sarah has aside from showing, she will often be out helping others with their horses, as she is a qualified instructor and has a large client base. Her partner, Josh Eddleston, is an established registered farrier in the North West and is often seen out on the show circuit with Sarah.
Sarah specialises in Native breed ponies, owning a national winning Dales called Matt and a Connemara stallion called Dave, both HOYS attendees last year. Matt has already qualified for HOYS this year in the NPS Fell & Dales final after winning at Lincolnshire County Show recently. Of course Sarah will also be aiming for Olympia where she has had previous success in Best of Breed!
Here at Day, Son and Hewitt we are really excited to be working with such a promising rider with a great team behind her and looking forward to what this season will bring!
---
Sponsored Rider: Gary Parsonage
Day, Son and Hewitt's rider Gary Parsonage, International Eventer originally from Cheshire now based in East Yorkshire with his wife Camilla, also a talented event rider and their two boys, Ben and Freddie.
Amongst being an Olympian Gary currently holds the record at Hickstead for winning the eventing grand prix four times.
You can see Gary and his team this weekend 9th & 10th August at Burgham Horse Trials 24th & 25th August Blair Horse Trials, Scotland 5th – 8th September Burghley Horse Trials.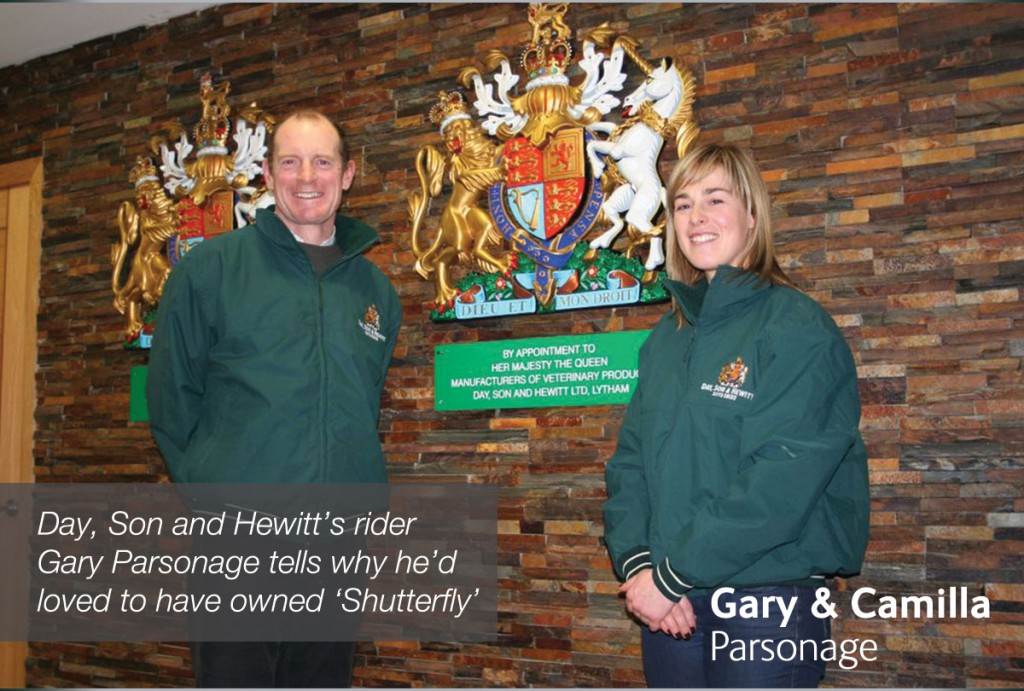 1. What is the earliest memory you have of eventing and is it this memory that made you want to take part?
Earliest memory is being taken to Badminton and being awestruck at the size of the fences and yes it did make me want to do it
2. Name one thing people probably don't know about you?
I would love to be a full time ski bum
3. Throughout your career, which person has given you the most support and advice?
There were 2 very influential people in my early days. Gill Barnes who taught me in pony club in Cheshire and has the patience of a saint and Gill Watson who gave me such great early opportunities
4. If Looks Similar was a celebrity who would he be?
Jack Dee… Very dry sense of humour and a grumpy old man all in one.
5. How has the recent hot weather affected the ground and has it changed any event preparations?
We never entered any events because we expected the ground to be firm. Smart hey!
6. Skinny fences are often riders Bogey fences, what advice would you offer riding them?
Practise over a wider one first then work your way down to a skinny…. Practice, practice, practise. In trot and canter.
7. Which is your favourite Horse Trials event?
Burghley. They look after the horses, owners and riders like nowhere else and it is the world's most demanding xc.
8. Which horse would you most like to own and why? (from any discipline)
Shutterfly. A Hanoverian gelding discovered by Meredith Michaels- Beerbaum by Silvio 1 out of Famm, he won the 2003 & 2004 Grand Prix at Olympia and then went on to take 2nd place at the Rolex FEI World Cup Finals in Milan… Just an amazingly brave, careful jumper.
---
Esanto is a 4 year old riding horse who Joanne bought from Astrid Bolton 9 months ago when moving away from ponies and entering the horses. With Joanne being heavily involved in working hunter ponies from a young age, a riding horse was a big change, but change brought Esanto. Within 4 outings Esanto had won every class entered and excelled himself at the 2013 Aintree National Showing Show where he stood Supreme of Show against a very heavily contested championship.
(more…)
---
The Julie Templeton Show Team had a very busy and productive week at the Royal International Horse Show.
Congratulations from all of us at Day, Son and Hewitt!
1st and Champion Supreme M&M Mini
2nd 143 Show Hunter
3rd Intermediate Show Hunter
4th 122 Show Hunter
---
The Intermediate Show Hunter, Pebbly Diva Du Mont, produced by Joanne Shaw, is well known for living up to its name (Diva).  She proved to be a lively sort when entering the ring at shows and was seen to be overly excited. After being fed on Day Son & Hewitts Relaxin, Diva qualified for Horse of the Year Show at The Showing Register, Arena UK where her anxiety levels were reduced and her concentration was 100%.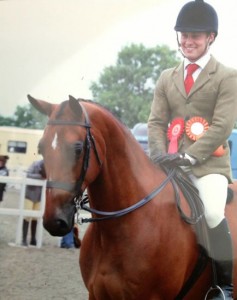 ---
At 19 years of age, Carnsdale Top Gun is proving to be one of the most consistent Working Hunters on the Circuit. Desert Orchid Winner, 6 times Gold Cup Winner, and a member of the England Working Hunter teams on many occasions, Top Gun is still making history. Top Gun is fed on Day, Son & Hewitt's Synoflex, which helps to give musculoskeletal and joint support and enhance his natural athletic ability.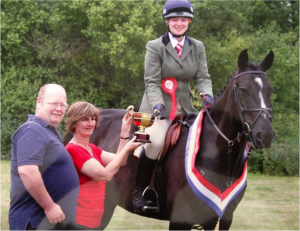 ---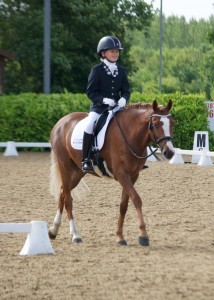 Amelia was selected to represent the British Dressage Northern Region at the BYRDs Inter-Regionals last month competing in the Fledgling class (11 and under). We made our way to Keysoe on the Friday and bedded DST Don't Panic aka Ollie in his temporary stable after a brief ride in the arenas. On Saturday Amelia had two tests, the first a warm-up Fledgling Rider Test (Rider tests are scored out of 70 and based not on the pony but the riders position, influence and accuracy), which she rode fantastically, winning against a strong field. Ollie behaved himself brilliantly, entering the arenas cool, calm and collected, unfazed by the flowerpots, whiteboards and judges box.
Next was the first of two Fledgling team tests, where the combined scores over the two days would decide the overall individual Fledgling Champion. Milly & Ollie again rode brilliantly scoring 60.4/ 70 to finish second on the day. On Sunday, due to some great riding from the other riders in the class, it left her needing to score over 66 to win but under pressure they rode a near perfect test scoring 68/70 or 97% to become overall Inter-Regional Fledgling Champion.
Against some strong and established riders and schoolmaster ponies, 5 year old Ollie performed with a maturity beyond his years and we strongly believe the Relaxin had an effect on his temperament, leading him to been calmer, more focused and less distracted. This was particularly noticeable in the warm up arenas where previously he's become quite stressed by other horses riding close to him. The Foundation has also shown improvements to his top line and general wellness.
---
About the Colic Case Study with HAPPA
Grace was taken in by HAPPA in 2010 further to being seriously neglected.  She had suffered from spasmodic colic every couple of months since being there.  Grace looked depressed and uncomfortable.  She was weight shifting left to right and back to front, she was lack lustre and wasn't interested in her food.  Showing typical signs of colic, looking at her stomach, pawing, erratic breathing patterns. Grace started Maximise on the 20th March 2013 and on the 29th March Grace had made a total recovery, she was fed Maximise for a total of two months and has now been backed and ridden away. Grace is now looking for a home as HAPPA are confident that we have overcome her problems with the colic.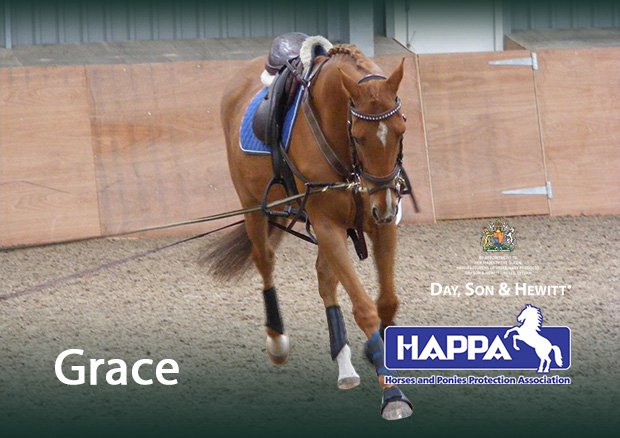 (more…)
---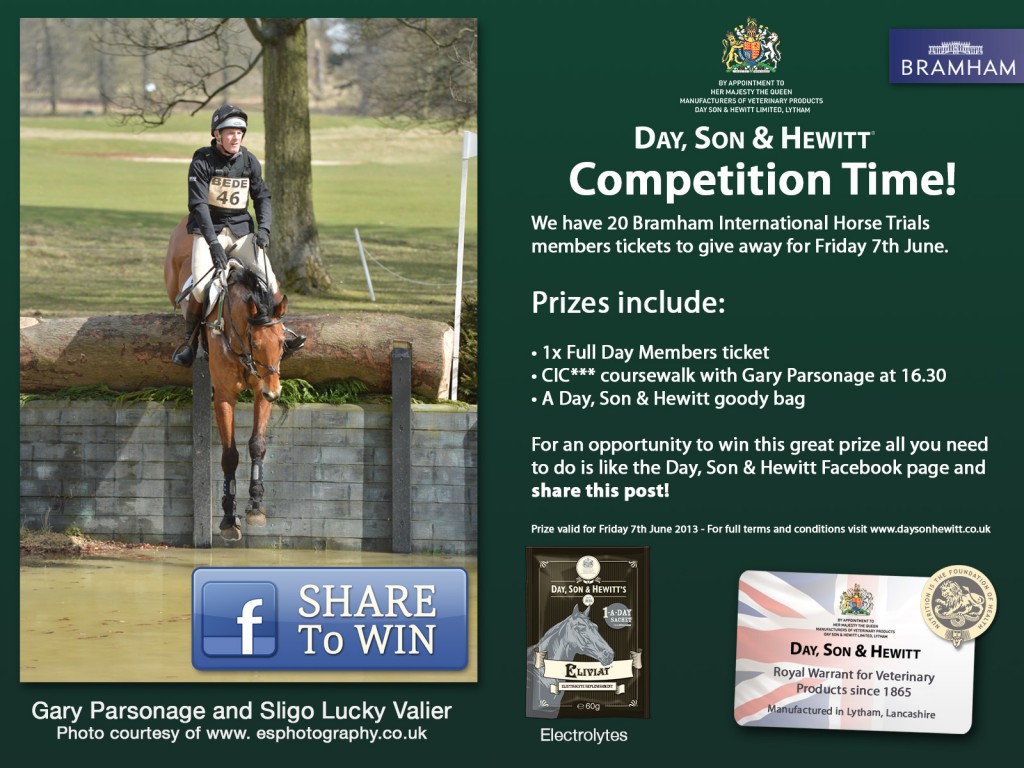 Thanks to everyone who took part in our recent Facebook competition to win one of 20 Bramham International Horse Trials bundles.
The lucky winners are:
Angela Gregory
Becky Blyton
Danni Milner
Denise Ann Nancarrow
Jacqueline Millican
Joanne Stacey
Keren Webster
Kirstie Newall
Krystin R Gregory
Laura Seales
Louise Cupitt
Lucy Reddington
Nik Elder
Penny Grubb
Sarah Barnes
Sarah Penney
Shelley Williams
Ste Olly Briggs
Vicki Smith
Yvonne Hargreaves
Congratulations to those that won and thank you to everyone who took part. Keep an eye out for more great competitions and news on our Facebook and Twitter!
---