Pebby Diva Du Mont – Relaxin
The Intermediate Show Hunter, Pebbly Diva Du Mont, produced by Joanne Shaw, is well known for living up to its name (Diva).  She proved to be a lively sort when entering the ring at shows and was seen to be overly excited. After being fed on Day Son & Hewitts Relaxin, Diva qualified for Horse of the Year Show at The Showing Register, Arena UK where her anxiety levels were reduced and her concentration was 100%.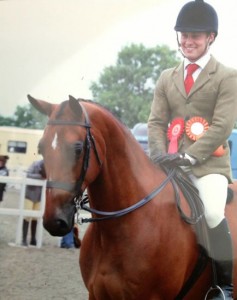 "This product has been a vital part of Divas diet, we all know that she can be a Diva, but Relaxin has really helped diva to get into a calm routine whilst out competing, this has proved with the qualifying for Horse of the Year Show for the first time in her career"
Joanne will continue to feed Relaxin to Diva on the build up to Horse of the Year Show to help ensure that Diva is maintained being nice, calm and stress free.
Written by Jo Shaw