Esanto – Maximise & Foundation
Esanto is a 4 year old riding horse who Joanne bought from Astrid Bolton 9 months ago when moving away from ponies and entering the horses. With Joanne being heavily involved in working hunter ponies from a young age, a riding horse was a big change, but change brought Esanto. Within 4 outings Esanto had won every class entered and excelled himself at the 2013 Aintree National Showing Show where he stood Supreme of Show against a very heavily contested championship.

Esanto is fed on Maximise and Foundation to help keep a healthy digestive system and a well balanced diet. It is important with a four year old not to rush, so foundation has done a brilliant job in helping with the maintenance of his condition. He is also fed long term on Maximise which helps to supplement a healthy diet.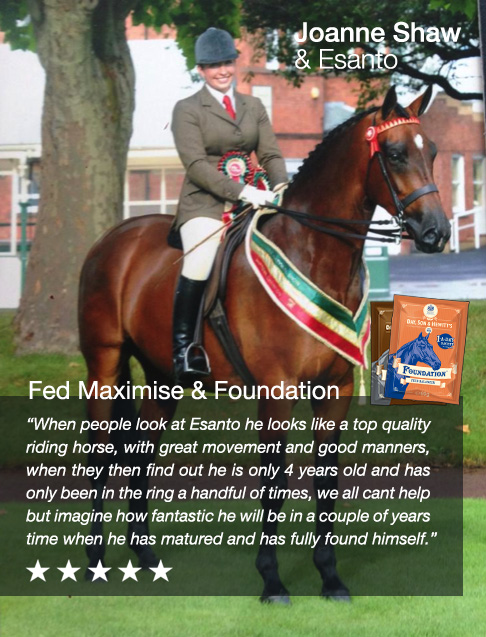 "When people look at Esanto he looks like a top quality riding horse, with great movement and good manners, when they then find out he is only 4 years old and has only been in the ring a handful of times, we all cant help but imagine how fantastic he will be in a couple of years time when he has matured and has fully found himself. The important thing to do in the waiting period is to continue with the maintenance of his diet to allow him to be as healthy as possible, especially whilst he is at his winning ways. Maximise and Foundation and sure the products to be helping me to do so!"