Lenny's Career Begins… by Hayley Colwell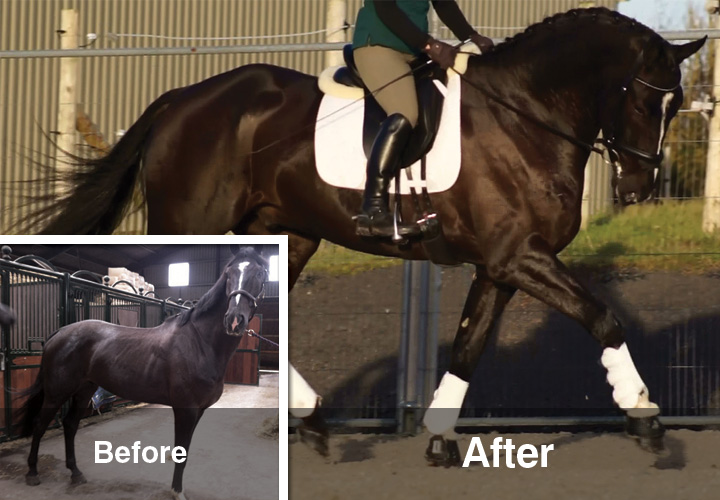 Hayley Colwell introduces Lenny, our 5 yr old 17.1 hh gelding who came to us at the end of June this year in very poor condition and lacking in not only strength and training but also manners!
On the 10th of October after approximately 4 months on Maximise, Foundation & Synoflex, Lenny long legs (as I like to call him!) was looking semi ready for his first competition. We decided to take him to the BD show at Crow Wood equestrian centre under his show name "Cassius". Astrid and I thought we would run him in a novice class to see how his training and mental attitude was developing, he went brilliantly and won with over 71% a very good first start.
As the winter qualification for regionals closes on the 30th of November we thought that gaining 20 points before then was slim, especially with Astrid away for the next 2 weeks and myself 5 days after that. However after taking Lenny to a show on the 31st October he had another win and a second place with plus 70% scores, then an appearance at the  Day, Son & Hewitt Masterclass with Astrid & Geoff Billington (a great night!) on the 2nd of November. Astrid set me the mission impossible task of not only gaining my winter novice points but also to get my 18 elementary points as well!
I love a challenge and entered the next 6 shows leading up to the end of qualification with the 7th show on the 30th of November! Pushing it I know but come Feb/March when the regional finals are here Lenny will be ready and if we didn't try I knew how mad I would be.
Just to complicate matters I decided to try to qualify him for the Novice & Elementary freestyle to music classes, bearing in mind I have never contested in these classes and needed to arrange two floor plans and music. With the help of Astrid videoing my floor plans and my brilliant partner Rob Bartlett composing the music in record time ,we went off to our first freestyle competition on the 17th November.
Lenny did it, winning with a personal best score for me of 81.11%, even scoring a 10 for one of his movements in the test, an incredible achievement for a horse of any age. To add to this he also won the Elementary class straight after with another +70% score, more winter points!
Coming into the weekend of the 24/25th November we just needed 4 points in an Elementary and a top 3 placing in the Elementary music, so off to Myerscough College we went. Lenny is becoming a little super star and rising to every challenge we set him. He managed to win the Novice class with a massive 76.92%, the Elementary with 69.29% on Saturday, then on Sunday winning the Elementary freestyle with over 75% ! This horse really is special and an exciting prospect for the future. My task was complete Lenny and I are now qualified for 4 classes at winter regionals 2013, MISSION POSSIBLE!!!!!!
Hayley Colwell