New Sponsored rider for Day, Son and Hewitt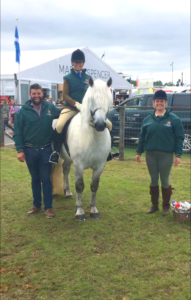 Day, Son and Hewitt are proud to announce our Sponsorship of North West Show Producer, Sarah Field.
Sarah is an established rider producing her own horses and ponies in Lancashire. She regularly reaches HOYS and Royal International. Sarah's family have their own livery yard and currently have 15 of their own horses and ponies; ridden, young stock, broodmares and stallions. In the spare time Sarah has aside from showing, she will often be out helping others with their horses, as she is a qualified instructor and has a large client base. Her partner, Josh Eddleston, is an established registered farrier in the North West and is often seen out on the show circuit with Sarah.
Sarah specialises in Native breed ponies, owning a national winning Dales called Matt and a Connemara stallion called Dave, both HOYS attendees last year. Matt has already qualified for HOYS this year in the NPS Fell & Dales final after winning at Lincolnshire County Show recently. Of course Sarah will also be aiming for Olympia where she has had previous success in Best of Breed!
Here at Day, Son and Hewitt we are really excited to be working with such a promising rider with a great team behind her and looking forward to what this season will bring!