Colic Case study with HAPPA
About the Colic Case Study with HAPPA
Grace was taken in by HAPPA in 2010 further to being seriously neglected.  She had suffered from spasmodic colic every couple of months since being there.  Grace looked depressed and uncomfortable.  She was weight shifting left to right and back to front, she was lack lustre and wasn't interested in her food.  Showing typical signs of colic, looking at her stomach, pawing, erratic breathing patterns. Grace started Maximise on the 20th March 2013 and on the 29th March Grace had made a total recovery, she was fed Maximise for a total of two months and has now been backed and ridden away. Grace is now looking for a home as HAPPA are confident that we have overcome her problems with the colic.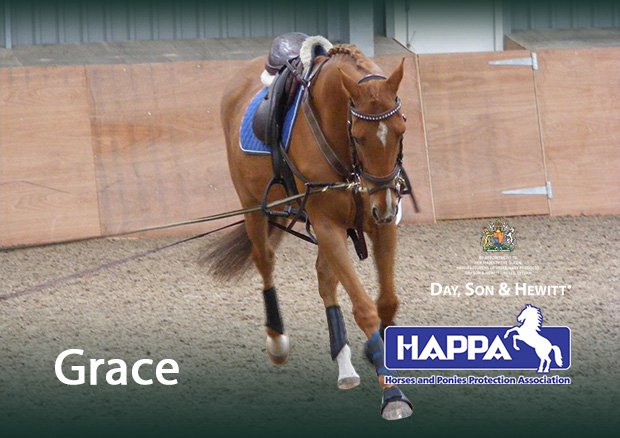 HAPPA Say:
I would like to say a big thank you for the support that Day, Son & Hewitt have given us in the past few months. Grace has been on Maximise for 2 months now and the change has been phenomenal. With the combination of work and her daily supplement she has come on leaps and bounds not just in appearance but is more alert in and out of her stable. I would recommend this product but I don't need to as it speaks entirely for itself!
After the fantastic results that Julie and I have seen in Grace with the Maximise product, helping her come back in to work…..and staying in work, we were thinking that her she may need a little help in order for her to continue her work and would like to purchase the Synoflex product.
Many thanks
Julie and Laura (Manager and Assistant Manager)
HAPPA
Horses and Ponies Protection Association:
If anyone is interested in giving Grace a home or if you can help HAPPA at all, please contact Julie or Laura on 01282 455992 or visit www.happa.org.uk