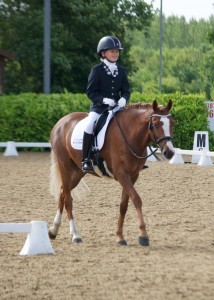 Amelia was selected to represent the British Dressage Northern Region at the BYRDs Inter-Regionals last month competing in the Fledgling class (11 and under). We made our way to Keysoe on the Friday and bedded DST Don't Panic aka Ollie in his temporary stable after a brief ride in the arenas. On Saturday Amelia had two tests, the first a warm-up Fledgling Rider Test (Rider tests are scored out of 70 and based not on the pony but the riders position, influence and accuracy), which she rode fantastically, winning against a strong field. Ollie behaved himself brilliantly, entering the arenas cool, calm and collected, unfazed by the flowerpots, whiteboards and judges box.
Next was the first of two Fledgling team tests, where the combined scores over the two days would decide the overall individual Fledgling Champion. Milly & Ollie again rode brilliantly scoring 60.4/ 70 to finish second on the day. On Sunday, due to some great riding from the other riders in the class, it left her needing to score over 66 to win but under pressure they rode a near perfect test scoring 68/70 or 97% to become overall Inter-Regional Fledgling Champion.
Against some strong and established riders and schoolmaster ponies, 5 year old Ollie performed with a maturity beyond his years and we strongly believe the Relaxin had an effect on his temperament, leading him to been calmer, more focused and less distracted. This was particularly noticeable in the warm up arenas where previously he's become quite stressed by other horses riding close to him. The Foundation has also shown improvements to his top line and general wellness.
---
---
---
---