Day, Son and Hewitt's rider Gary Parsonage tells us why he'd loved to have owned 'Shutterfly'
Sponsored Rider: Gary Parsonage
Day, Son and Hewitt's rider Gary Parsonage, International Eventer originally from Cheshire now based in East Yorkshire with his wife Camilla, also a talented event rider and their two boys, Ben and Freddie.
Amongst being an Olympian Gary currently holds the record at Hickstead for winning the eventing grand prix four times.
You can see Gary and his team this weekend 9th & 10th August at Burgham Horse Trials 24th & 25th August Blair Horse Trials, Scotland 5th – 8th September Burghley Horse Trials.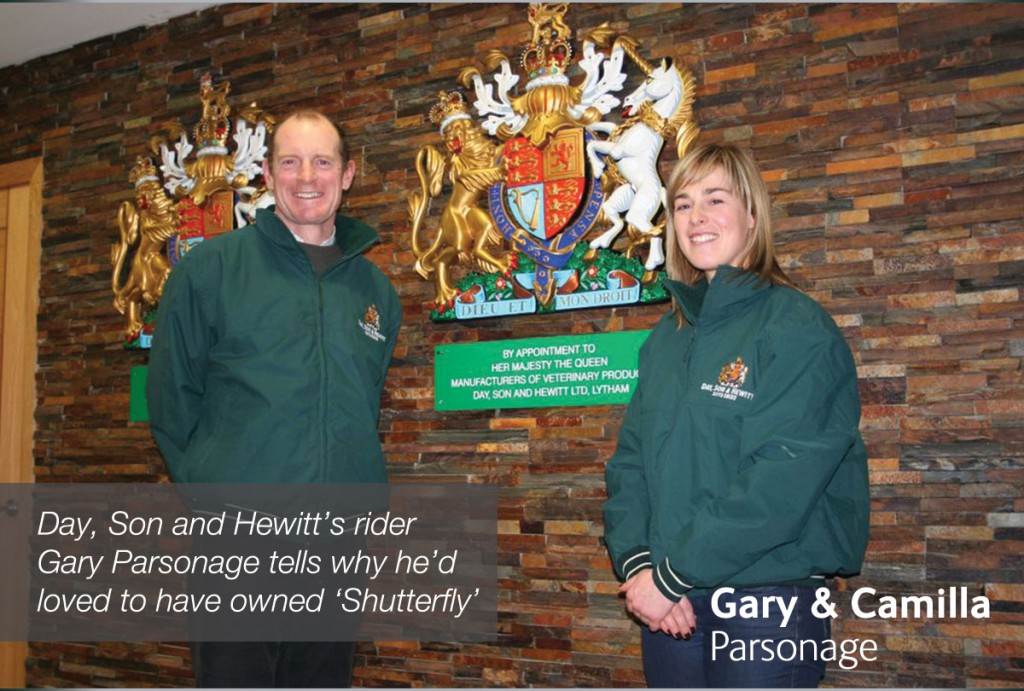 1. What is the earliest memory you have of eventing and is it this memory that made you want to take part?
Earliest memory is being taken to Badminton and being awestruck at the size of the fences and yes it did make me want to do it
2. Name one thing people probably don't know about you?
I would love to be a full time ski bum
3. Throughout your career, which person has given you the most support and advice?
There were 2 very influential people in my early days. Gill Barnes who taught me in pony club in Cheshire and has the patience of a saint and Gill Watson who gave me such great early opportunities
4. If Looks Similar was a celebrity who would he be?
Jack Dee… Very dry sense of humour and a grumpy old man all in one.
5. How has the recent hot weather affected the ground and has it changed any event preparations?
We never entered any events because we expected the ground to be firm. Smart hey!
6. Skinny fences are often riders Bogey fences, what advice would you offer riding them?
Practise over a wider one first then work your way down to a skinny…. Practice, practice, practise. In trot and canter.
7. Which is your favourite Horse Trials event?
Burghley. They look after the horses, owners and riders like nowhere else and it is the world's most demanding xc.
8. Which horse would you most like to own and why? (from any discipline)
Shutterfly. A Hanoverian gelding discovered by Meredith Michaels- Beerbaum by Silvio 1 out of Famm, he won the 2003 & 2004 Grand Prix at Olympia and then went on to take 2nd place at the Rolex FEI World Cup Finals in Milan… Just an amazingly brave, careful jumper.