Harvey Smith and his Relationship with Day, Son & Hewitt
When I was a little girl, the highlight of my year was to sit on my rocking horse, and watch the television coverage of the Horse of the Year Show at Wembley. My hero was Harvey Smith, riding Harvester, or O'malley, to name just a couple of his legendary horses.
Rather like the late Baroness Margaret Thatcher, Harvey has always courted a love/hate relationship with the British public, after finding notoriety with the famous V sign, after winning at the all England Jumping arena. As a horseman, he was born to ride and always happy to share his knowledge and invest his time. In his Channel 4 Racing interview after victory in the great race on Saturday, Ryan Mania, was happy to give credit to the legend that Harvey is.
Auroras Encore, was purchased in Doncaster for £12,000.00, rather similar to year before when Harvey paid just £50.00 for Farmer's Boy, a horse that also went on to iconic status, in this case as a show jumper.
In the equine world it's known as having the eye – the ability to see the potential in a horse at a sale, and train it to win!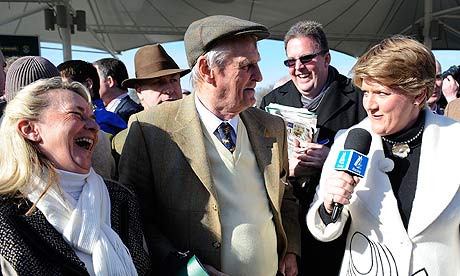 Harvey first started using the Day, Son & Hewitt feed supplement range back in the 70s, when he lived close to the manufacturing head quarters of the business at Bradford in Yorkshire. He soon realised how a horse's well being could be enhanced by using the product range.
At the Horse of the Year Show 2012 while on the Lucas stable stand, Harvey and Sue his trainer and wife, came to say hello. In conversation they asked why I was wearing a Day, Son & Hewitt jacket to which I explained how I renamed my two Jack Russell dog's after the brand name, as a thank you for supporting my Clydesdale Horse. Ted, received Day, Son & Hewitt's support since 12 weeks of age, and then became the star's of my award winning Children's Book range.
I then took Harvey at his request to meet Sue Taylor, the National sales manager of Day, Son & Hewitt.
Sue was delighted to meet them both, and within weeks, an invitation followed to there racing stables in Yorkshire. Sue gladly ventured up to the Yorkshire Moors, to meet there equine string of race horses.
The relationship with Day, Son & Hewitt, was re-established, and the daily, individually sealed sachets, of feed supplements were added once again to their diet.
Harvey Smith and his wife Sue, are a winning team when it comes to training there race horses. Aurora's Encore racing by the finishing post at 66/1 is a win will go down in the history books of the world famous race. Sue Smith is only the 3rd female trainer to have a victory in the great race and Harvey Smith is a Horseman of such great magnitude, this will be the V for victory sign for which the British public will always love him, and remember him so fondly by.
Sally Anne Oultram Author of the Story of Ted Children's book range.