The Build Up to Badminton Horse Trials
Below is the story of Trudy Johnson as she prepares for this year's Badminton Horse Trials. Trudy will be providing us with more diary entries as she makes her way to Badminton, so be sure to check back for updates on her story.  
Since the age of 9, when I was lucky enough to get my first pony, I have dreamed of competing at an International Event.  Dreams take different turns and sometimes take longer to achieve, but the reality is never to give up on them.  It has taken me a while but after spending most of my life show jumping where I have worked for some great people, travelled to New Zealand to work for an Olympic show jumper Colin Macintosh and had one exceptional Irish Sports Horse out of King of Diamonds who took me to Royal Windsor at Foxhunter, I have now spent the last two most exhilarating seasons with British Eventing and after qualifying for Badminton Grassroots 2013 I can see a real possibility of achieving those ambitions.
Since 2005 I have been able run my own Livery Yard, where I have 5 lovely horses but my real story began in 2009 with my horse of a lifetime and my main man "Reggae Man" – stable name "Winston".
We bought Winston 4 years ago as an un-handled 3 year old, ostensibly to Show Jump, but the lad was very special and we immediately earmarked him as a future potential Eventing star.  After breaking him in myself,  we started our British Eventing career in 2011 where we were regularly placed in our BE90 and BE100 events.  Last year we won at Goring and shortly after, the highlight of our year, we qualified for the Badminton Grassroots Championships at Purston.  This was quickly followed by our first BE Novice where we came 3rd, again at Goring!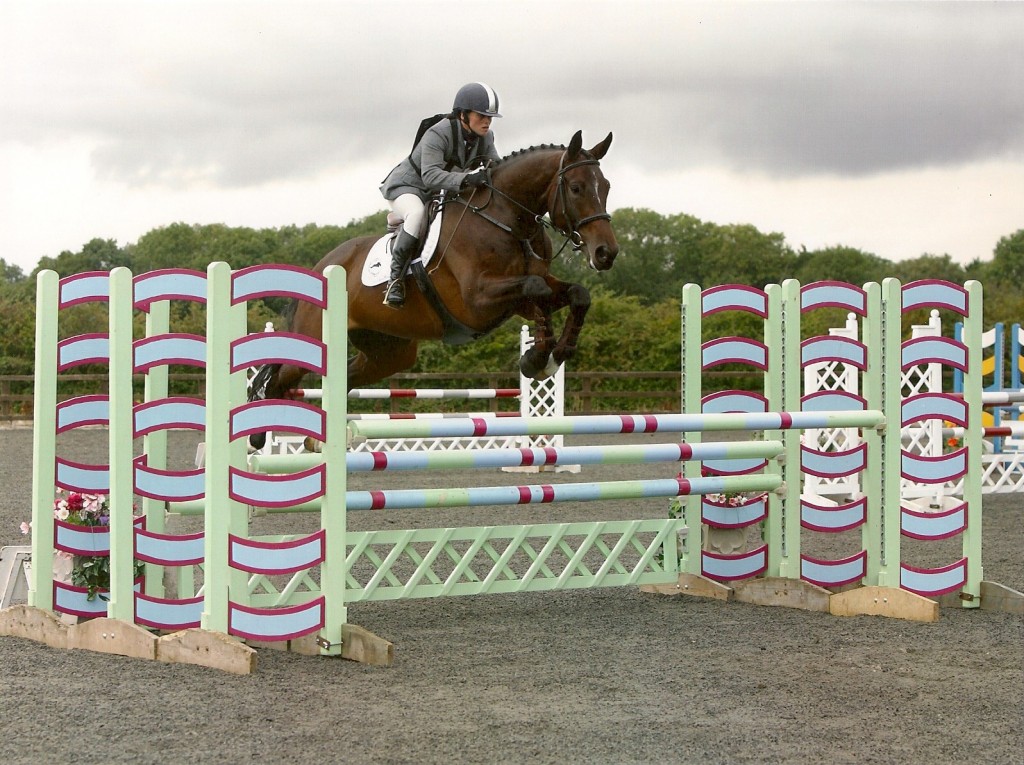 This year our winter training and competition programme has been geared around the trip to Badminton.  Through the winter we registered with British Dressage and as we all know Eventing cannot be won in the dressage arena, but it can certainly be lost!  We had some success and even got a mention in Horse and Hound for a Novice win at Addington!  As we are based just down the road from Addington Manor we also competed in their unaffiliated competitions and over the winter series Winston managed to qualify for both the Novice and Elementary Championships.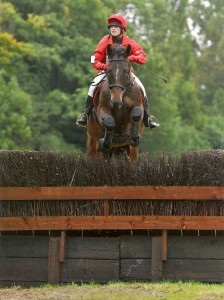 The championships took place this weekend (7th April) and between the snow showers that have plagued our preparations this year, I managed to fit in some training with my regular trainer Giles Carradine and also my dressage trainer Christine Wynn.  Winston looked great and in top form thanks to the support of Day, Son & Hewitt who have sponsored Winston for Badminton by providing  a "Foundation Supplement".  As a result his coat is gleaming which always helps with first impressions for those dressage judges!
Still the best laid plans sometimes come adrift and a massive bang from the lorry park as Winston started his Novice test causing pigeons to launch out from the trees was enough for a slight loss of concentration (and canter spook!), causing the judges to mark 5 for that movement, this was enough to drop us to 3rd! In the Elementary, Winston was still feeling well in himself, we held our own and with just a minor blip of balance (we had a flying change which was not required and you don't get extra marks for performing harder movements if they are not in the test!!)  We finished 5th which I was still very happy with.
Our training continues this week with some show jumping and cross country schooling with Giles in preparation for our next BE 100 event at Hambledon International, which will be quickly followed four days later with a run at Milton Keynes.  We had to re route to Milton Keynes as our first event at Goring Heath was cancelled because of the weather.  Then there is one week at home to iron out any chinks in our armour and then we will be on our way to Badminton!