Julie Templeton at the RIHS
The Julie Templeton Show Team had a very busy and productive week at the Royal International Horse Show.
Congratulations from all of us at Day, Son and Hewitt!
1st and Champion Supreme M&M Mini
2nd 143 Show Hunter
3rd Intermediate Show Hunter
4th 122 Show Hunter
The Royal International Horse Show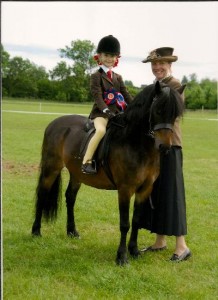 As one of the biggest outdoor shows in the country, the Royal International Horse Show uniquely sees the elite of many equestrian disciplines compete side by side: it has everything from the thrills and spills of international showjumping to the elegance and glamour of champion showing horses and ponies, to the exhilarating buzz of the country's best eventers flying across country.
For showing riders, this is exclusively a championship show, and is the culmination of many months of qualifications throughout the winter, with a host of prestigious classes for every breed of British horse and pony. The show also stages the peak of winter national showjumping qualifiers as the home to the British Showjumping Winter Finals. As one of only eight global hosts to the Furusiyya FEI Nations Cup™ Series, the show is also the British public's only chance to see their national showjumping team compete on home ground.