Sally Oultram on Ted, Day Son & Hewitt, Synoflex and Foundation
At the start of October, we made our way down to Birmingham for the Horse of the Year Show 2012. It was great to meet everyone who made it down to the show. One story that we found particularly interesting was Sally's, author of 'The Story of Ted', her story is below: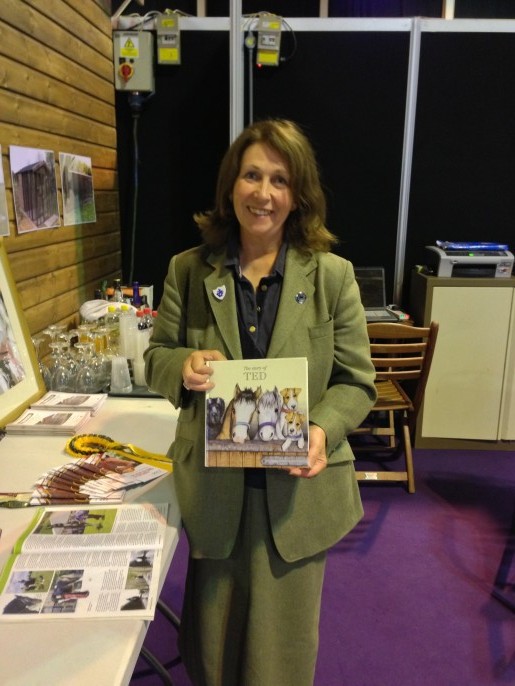 October the 2nd 1998 was a date that changed my life, it was the first time I set eyes on Ted. It was love at first sight, the foal had the kindest , and a vulnerability that I found compelling.

Breeding horses is a high risk business. the young horse had problems with feeding, which of no fault of his Mums or his. Ted had battled to survive against pneumonia and a stomach blockage. I have cradled him in my arm's when he was given a 50/50 chance of living till day break.

Veterinary surgeon Elizabeth Gorse, spent forty eight hours with Ted, which went far beyond the call of duty.  The mortality rate in horses is one of the highest in the animal kingdom. It was only thanks to Day, Son & Hewitt suppliers by Royal appointment to the Queen, who had delivered an emergency pack of Aintree foal milk, that Ted won his fight to survive.

Now 14 years on Ted is reaching the autumn of his life, as with all old heavy horses, joints and arthritis are an inevitable problem.

In February my vet Thorsen Feddern and Farrrier Dean dibsall, both agreed his stifle was causing serious flexion and movement problems.

My vet said " If Ted was an old person they would give him a hip replacement – Horses you can't".

I made the decision not to have him put to sleep, but to give him one last chance.

The spring sun shine helped and the warm temperatures to a condition which no horse can escape the onset of old age and general fatigue of both muscle and joint.

In October I met Sue Taylor on the stand of Day, Son & Hewitt at the Horse of the Year show. She offered very kindly to trial him on their Synoflex joint supplement.

Six weeks on and he is trotting across the field to get his daily feed, which the very palatable supplement is added to.

The flexion in his back hind quarter is 100% improvement.

The horse is happier, and his whole persona has changed.

Ted is living proof miracles can come true, along with the help of the Synoflex and Foundation feed Supplements.
Written by Sally Anne Oultram author of the award winning children's book The Story of Ted, and Equine Ambassador of the Rare Breeds Survival Trust.