Day 3: Our Last Day at the KWPN Stallion Show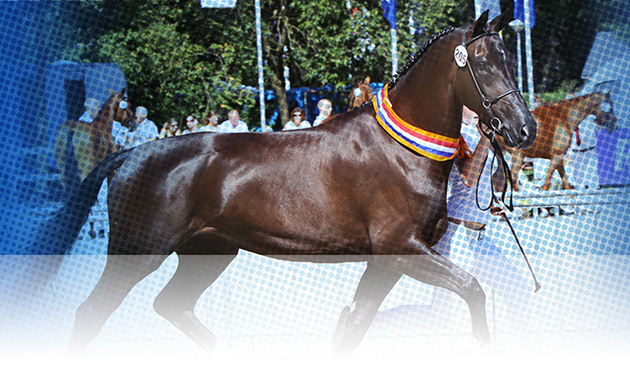 Today in Den Bosch we saw 26 of the 40 dressage stallions from yesterday pass the 3rd round test to go through to Ermello. The UB40 x Contango colt "Forty" that I liked was one of those to be put through however my two favourite colts the Jazz x Negro and the Apache x Hitchcock were both unable to come forward because of lameness or illness!? They will however be given the chance to be presented in Ermello.
"Fierce" the Ampere x Ferro was named 3 yr old dressage colt champion, with the Johnson x Florencio son "Fecco" as reserve.
The champion show jumping colt went to "freeman" a Emmerton x Chin Chin with the reserve going to "Fandango" the Vittorio x Odermus.
The highlight of the day was the 2012 KWPN horse of the year award, (sports personality of the year for horses!) with so many great horses nominated for this award after London it was great to see that 3 Brits Utopia, Valergro and Big Star were up there, all of which deserved this accolade, however it was Nick Skeltons "Big Star" (Quick Star x Nimmerdor) that took the trophy. He couldn't be there but Big Star's breeders received an award and Nick did a video link thanking everyone for voting.
Another great sight in Den Bosch is the Tuigpaards (harness horses), they too have the stallion grading process and also have champion stallions of the year, they are so great to watch with their amazing knee action and quick hind leg you really can see the origin of today's modern dressage horses from the continent!
As the afternoon comes to a close it's time for the KWPN select sale for those stallions that are there to be sold. It's an exciting event and very hard to keep your arm still! My lottery numbers didn't come up from yesterday so I was forced to tie down my hands!
The highest priced Dressage stallion was the Vivaldi x Havidoff son "Ferdinand" who was one of the colts accepted to go to Ermelo. He was sold for €160,000, the reserve champion from earlier in the day Fecco the Johnson x ferro also made €100,000.
"Fly High Fortuna HBC" (Alicante HBC x Memphis) was the highest priced jumping stallion, selling for €52,000.
A very quick dash back to Rotterdam to catch our ferry home and that is the end of a very exciting 3 days, I'd like to say I'm all horsed out but it's just not true!
Hope you've all enjoyed my updates, thanks for reading!
Hayley.