Platform
Platform® is a hoof supplement of superior formulation that supplies the nutrients needed to support strong, resilient, hoof growth. It contains super-optimum daily levels of Biotin, a nutrient well known for improving hoof quality, supported by high quality ingredients including Zinc, Copper and Magnesium.
Daily Biotin Levels Biotin has been proven in research to strengthen a horses hooves. Levels of 3mg per 100kg of bodyweight are required long-term, purely to maintain a hoof which is already in good condition. In order to actually improve poor quality hooves, levels which are in excess of this are required. Platform contains 25mg of Biotin per daily feed for a 500kg horse, which is substantially more than the 15mg recommended.
For optimum results, Platform® should be fed to supplement a balanced diet:
If the horse is already receiving a balanced diet, feed Platform® long-term (at least 9-12 months) to improve the quality of new horn growth. If the horse is being fed less than the manufacturers recommended amount of concentrate feed or if there is doubt regarding the quality of their forage, the diet should be balanced in the first instance using Foundation®.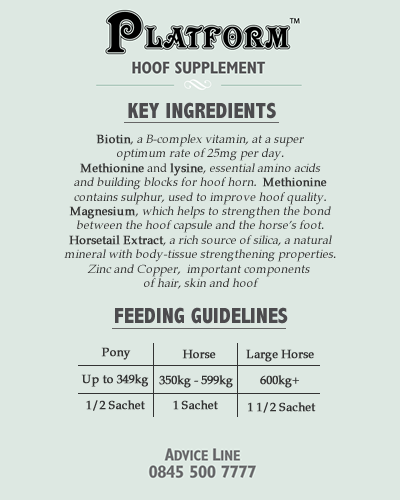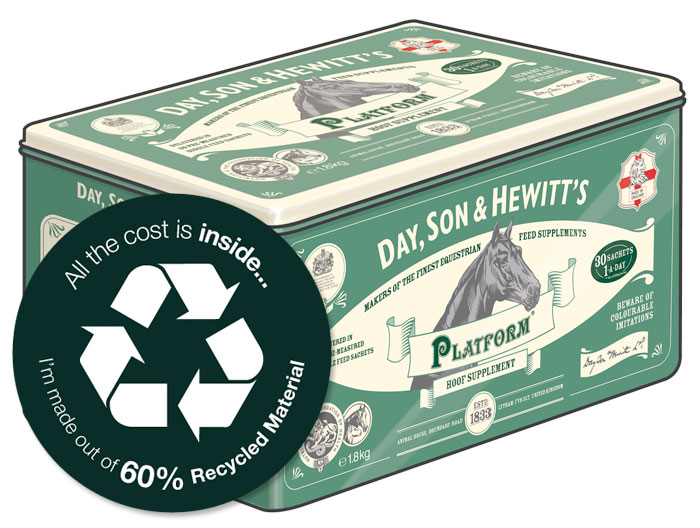 Each tin contains a 30 day supply for an average horse.