Synoflex
A horses natural athletic ability can benefit from additional musculoskeletal support, particularly horses in older age, in higher levels of work and after injury. The accelerated wear and tear performance horses endure over many years requires specific support if they are to maintain their natural mobility.
In addition, extra support may be required to nurse horses back to health after an injury. Synoflex® contains high concentrations of active ingredients including Glucosamine hydrochloride and Chondroitin sulphate: two acknowledged joint support ingredients which are used in equine mobility supplements and have been proven to deliver a marked benefit in maintaining healthy joints and cartilage. Further research has demonstrated that these two components are more effective in combination than either ingredient on their own.
Synoflex® should be fed long term to supplement a balanced diet:
If the horse is already receiving a balanced diet, feed Synoflex® long-term to help support and maintain healthy joints. Synoflex® is of particular benefit to horses in older age, in higher levels of work or those recovering from an injury.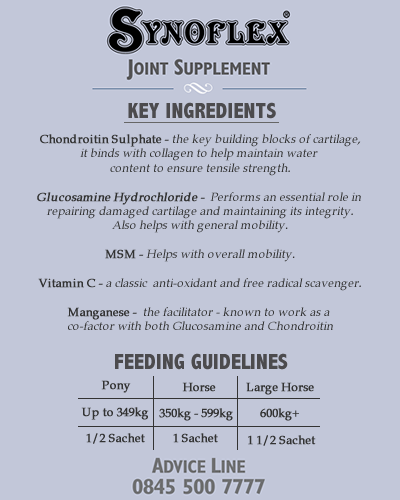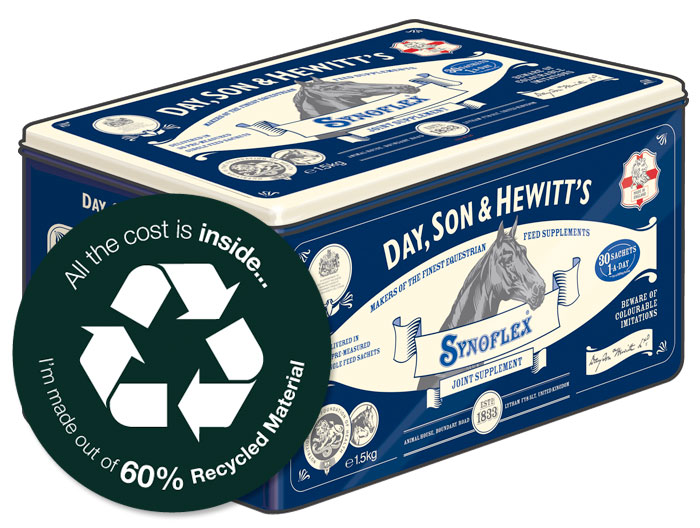 Each tin contains a 30 day supply for an average horse.
This aged riding school pony had become stiff with creaky joints. After treatment her whole being improved, her mobility, creaky joints and coat and was working much looser and easier in the school.(quite an extreme case!)



Kevin Hunter | Natland